---

---
Imperivm™

hits 1,000,000 and becomes

Platinum.
| | |
| --- | --- |
| | Los Angeles, May 11 2006 |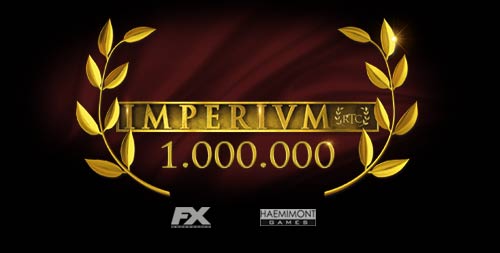 Los Angeles, E3 2006. A year after its international premier, we are proud to announce that our franchise Imperivm™ has sold more than 1 million copies, hence becoming one of the chosen few Platinum titles.
Imperivm™, developed by Haemimont Games, has managed to captivate strategy fans combining an atmosphere based on historical battles, characters and places with a game concept aimed towards military conquest.
This is the time to thank all of those who have made their contribution to this success, and most importantly, to the players who have enjoyed Imperivm™ all around the globe.


---
---
---
---

FX presents Imperivm – Great Battles of Rome

at E3.

| | |
| --- | --- |
| | Madrid, May 10 2005 |

Creating Imperivm GBR has been an enjoying challenge. It shows our commitment to historical accuracy and to Real Time Strategy.

Developed together with Haemimont™, the company behind the acknowledged AI of Celtic Kings™ (2002) and worldwide success Tzar™ (2000), Imperivm GBR introduces RTC (Real Time Conquest),
a novel gaming concept that combines three key ideas:

1. Military conquest-oriented RTS.
2. RPG features playing a key role in battles.
3. Storylines based on historical facts, scenarios and characters.

Romans, Egyptians, Britons, Germans, Gauls, Iberians, Carthaginians… Command the Legions and relive the great victories of Rome or lead their enemies in their fight for freedom.

12 epic battles designed with the help of historians and where the main characters are some of the greatest strategists of all ages: Julius Caesar, Cleopatra, Augustus, Queen Boudicca, Marcus Aurelius…

Download now "Imperivm GBR Key Points", a document that graphically illustrates all the features
of the game.