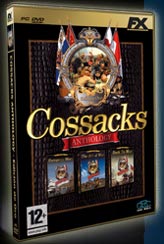 | | |
| --- | --- |
| | YA A LA VENTA |
Windows XP/Vista
Pentium II
5
00
M
Hz

256
Mb de memoria RAM
1,
3
Gb de disco duro
Tarjeta gráfica 16 Mb
Lector de DVD-ROM
Tarjeta de sonido

FORMACIONES EN PRIMERA LÍNEA, ARTILLERÍA DE COBERTURA,CARGAS DE CABALLERÍA... ESTRATEGIA PURA EN EL CAMPO DE BATALLA.
La Edición de Oro de Cossacks Anthology reúne en un solo título el juego original, European Wars, y sus dos expansiones oficiales: The Art of War y Back to War. Un recorrido histórico por la Europa de los siglos XVI al XVIII, un apasionante y convulso período histórico caracterizado por la sucesión de conflictos entre las principales potencias del continente en su intento por alcanzar la hegemonía.

España, Inglaterra, Francia, Austria, Rusia... Elige tu nación y rige sus destinos. Crea un poderoso ejército y condúcelo hacia la victoria en épicas campañas como la Guerra de los Treinta Años, la Guerra de Sucesión española o la lucha por la independencia de Ucrania protagonizada por la lucha entre los cosacos y los ejércitos del Zar.

La batalla está a punto de comenzar. Prepara la estrategia y despliega tus tropas sobre el terreno. La gloria te espera.

CARACTERÍSTICAS PRINCIPALES
---
| | |
| --- | --- |
| | Una saga que ha cautivado a más de dos millones y medio de jugadores de todo el mundo. Presentado en Edición de Oro, que incluye el juego original European Wars y sus expansiones The Art of War y Back to War. |
---
| | |
| --- | --- |
| | 10 campañas basadas en hechos históricos: la Guerra de los Treinta Años, la Guerra Civil inglesa, la Guerra de Sucesión española... |
---
| | |
| --- | --- |
| | Defensa de ciudades, operaciones de rescate, emboscadas, protección de asentamientos... Más de 150 misiones por todo el continente europeo, incluyendo batallas navales entre las potencias europeas y combates contra los piratas del Mediterráneo. |
---
| | |
| --- | --- |
| | 20 naciones europeas a las que podrás conducir a la victoria: Austria, España, Francia, Holanda, Inglaterra, Portugal, Suecia, Turquía... |
---
| | |
| --- | --- |
| | Unidades históricas de infantería, caballería y navales recreadas hasta el último detalle: piqueros, alabarderos, jenízaros, mamelucos, húsares, cosacos, galeras, jabeques... |
---
| | |
| --- | --- |
| | Hasta 8.000 unidades desplegadas simultáneamente en el campo de batalla. |
---
| | |
| --- | --- |
| | Partidas en red e Internet en dos modalidades de juego: Duelo y Batalla histórica. |
---
| | |
| --- | --- |
| | Manual a color para sacar el máximo partido al juego. |
---
(c) FX Interactive